"APPOINTED DUPONT COUNTRY INN CHEFS ADVISORY PANEL"
Bed and breakfast featured in the 1999 season of the award-winning national PBS-TV series:
"COUNTRY INN COOKING with GAIL GRECO at the SOUTHERN HOTEL"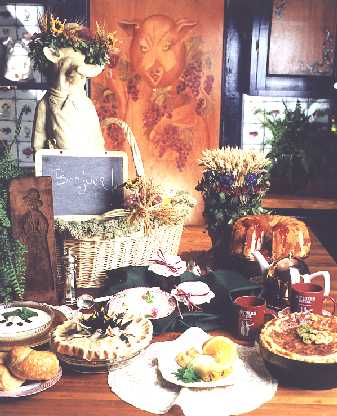 PEPPER and ROSES
A compilation of memories and receipts from the SOUTHERN HOTEL.
This book is for all those who have gone before, for those with us now and for those yet to come. We'll keep your memories alive.
Barbara was a speaker in November for the Professional Association of Innkeepers International and the Cooking and Baking Association of Bed and Breakfast and Country Inns. PAII/CBA held its first seminar "Food Frontier" in Strubridge MA. with 225 members attending.
Our cookbook is the result of eleven years as innkeepers and a previous 20 years in the food industry.
Dolly DuFour, whose original illustrations grace this book, has been an important part of the SOUTHERN HOTEL rebirth. You will find her on most weekends, painting in the garden or gift shop, dispensing good conversation and laughter.
When visiting the SOUTHERN HOTEL you may want to purchase the cookbook, but if you can't come, you may order a copy of our cookbook "PEPPER and ROSES" by sending $12.95 plus $3.95 for shipping and handling including tax to us.
SECOND FLOOR ROOMS
EVENTS ~ AVAILABILITY
HISTORY ~ DIRECTIONS ~ GARDEN
146 South Third Street
Ste. Genevieve, Missouri 63670
(573) 883-3493
1-800-275-1412 Reservations Only
Innkeepers: Mike & Cathy
www.southernhotelbb.com
Email: mike@southernhotelbb.com